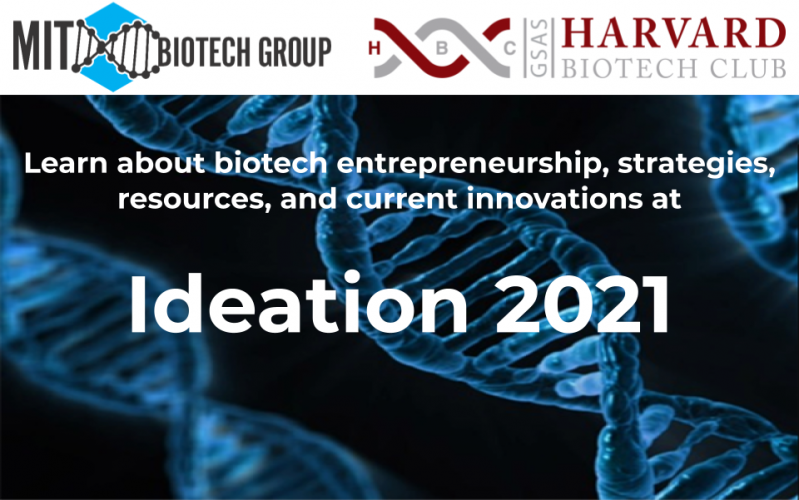 Ideation 2021
Calling all early-stage bio-innovators in the Boston/Cambridge area! Do you have a scientific idea you want to turn into a business? Are you looking for the right team members, mentors, or resources to form a biotech startup?
Join us at Ideation 2021, hosted by the MIT Biotech Group and Harvard Biotech Club, along with our event partners and sponsors.
Apply to pitch here by April 5th at 11:59 PM.
Ideation is an annual event that connects teams with early-stage startup ideas to other skilled entrepreneurial students and professionals. The event brings together MIT and Harvard, along with the broader Boston science community. The last event gave teams the opportunity to pitch in front of and network with an audience of ~300 people to form new collaborations and find new teammates. 
At this event, pitching teams and general audience members hear from established biotech entrepreneurs, successful early-stage teams out of Harvard and MIT, and startup funding organizations. Our partners and sponsors in the past have included The Martin Trust Center for Entrepreneurship, The Engine, MIT 100k, and Harvard Innovation Lab. 
Some entrepreneurs, like yourself, will also have the opportunity to present an idea in a 2-minute pitch following the featured speakers. Teams will receive feedback from a variety of judges involved in various stages of startup development, the chance to recruit new team members in a networking session following the main event, as well as the chance to participate in a closed-doors pre-networking session with our partners the previous evening on May 12th.